Joanne's Pecan Pie
to be exact.
My office holiday party is tomorrow. We'll have lunch at one of Old Town Alexandria's plethora of fine restaurants then return to the office for dessert and a gift exchange.
We do one of those roundtable gift exchanges. Everyone gets a number and presents are opened and traded around. (Is it rude to vie for the gift oneself brings to such an exchange? I must mull that over. I'd really like to have what I'm giving away.)
So back to the pie. It's a simple recipe and makes a damn fine dessert if you enjoy such things. Let's create one, shall we?
Preheat the oven to 350 degrees.
Gather the ingredients:
One 9" frozen deep dish pie crust
2 cups pecan halves
1/4 cup butter
1/4 cup water
3/4 cup sugar
1/2 tsp vanilla
1/4 tsp salt
3 eggs, beaten
36 Kraft caramels (unwrapped)
It is interesting that the recipe specifies the 36 Kraft caramels are to be unwrapped. Some details are best not left to intuition.

Into the saucepan go the caramels, the butter and the water. Over very low heat, allow it all to melt. Stir frequently. Watch it happen here through the miracle of timelapse photography!

Meanwhile, between stirs of the caramel mixture, blend together the eggs, sugar, vanilla and salt. Ummm ummmm good?

Gradually add the melty mess to the eggy mess.
Stir in the pecans.
Voila! Ready for the pie shell!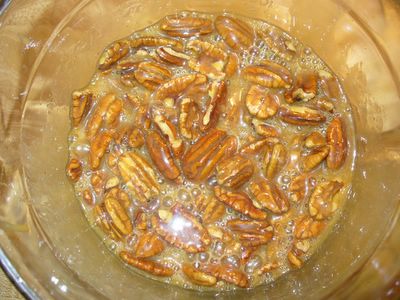 Bake in a 350 degree oven for 45-50 minutes.
We haven't heard from Joanne in years, but I think of her every time I bake her pie.
.