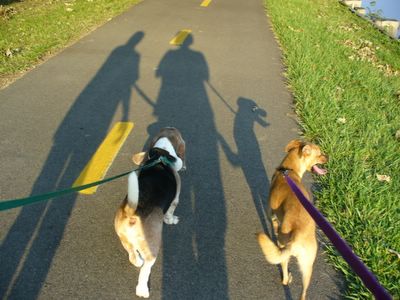 We took a walk along the Potomac River this evening. Yes, the same Potomac River where scientists recently announced discovery of
an abundance of intersex fish
. Bass, to be specific. Both wide and small mouth. What
are
we doing to our world?
While driving to work this morning, I became aware of my brain processing subjects at lightning speed. Thoughts bouncing from place to place, worry to worry, person to person, non-stop, high speed. I cranked up the CD to a volume certain to block out the rest of the world. It worked. But ever since, I've been intermittently bursting into song.
What's worse, I wonder. Racing thoughts or spontaneous showtunes?
My office, especially of late, is a fascinating blend of male egos colliding. But I'm finding it more frustrating than fascinating. Well. Frustrating is not the right word. Maddening is more like it.
"
I'm simply layin' out the facts for you ...
Ain't no time to relax for you..."
For some reason, I'm a magnet. Necessary business reasons aside, people talk to me about things. They confide their feelings. What is up with that?
My own feelings--which aren't all bad--take a backseat while I'm in the office. There is fear in the air there. Unrest. Upheaval. Fear of the unknown. Fear of change. But
change has arrived
in all its glory. Their fear will dissipate eventually. Change is here to stay.
"That freedom sun will shine someday..."
Meanwhile, I've got control of the volume and a river to walk beside with my girl and our dogs. What more can a woman possibly need?
.