I crossed a line.
It's one I never thought I'd ever cross again.
I did it anyway.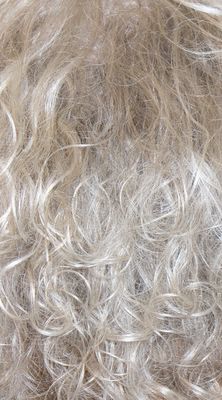 Having traded my easy wash-n-go hair for a quasi-Medusa-like mass of long curls, it no longer dries automati- cally between when I exit the shower and my arrival at work. A hair dryer is now part of my mandatory morning routine. It's a good thing Wendy doesn't mind sharing her toys.
I waffle about my hair incessantly. Each time I'm certain I've decided to get it all chopped off, I receive affirmation for my new look. It happened again yester- day on my way to vote.
In our neck of the woods, elementary schools serve as polling places. I secured a parking spot in the crowded lot and followed the signs to the designated entrance. I passed a woman and her teenage daughter heading back to their car and smiled a greeting. The woman and I simultaneously realized we knew each other.
I hadn't seen her in at least three years, possibly four. We had worked together during my five-year stint as the treasurer of our local chamber of commerce; she had also been on the board. While our politics are at divergent ends of the spectrum, I appreciated her work ethic and follow-through. Plus she always had responded generously to solicitations for support of the theatre program where The Boy attended high school.
She and her daughter proudly sported George Allen campaign stickers on their jackets. We stood in the sun and chatted a bit, talking about her three children and my one. Then she said, "I really like your hair. It's such a softer look. You look years younger."
Alrighty then. That waffled me right back to leaving it long. The need to blow it dry every morning suddenly didn't seem so odious. I'm so easy.
By next week, of course, I'll have waffled back.
Meanwhile, I bask in the results of the elections. Sure, the Virginia marriage amendment passed along with similar measures in seven other states. I'm not basking in
that
. But the House? And the Senate? I'm basking. For the first time in a long while, I have hope for America.
.