I recently visited Trader Joe's for humanitarian reasons. I was on a mission of mercy. Or something like that.
The Boy likes
Clif Bars
. Since we were going for a visit, I thought I'd bring him some. (Will I ever tire of feeding The Boy? I think not.) The cheapest place I know to procure them is Trader Joe's where they sell for 99¢ apiece. Of course while I was there, I took time to wander the aisles.
Remember
this snack binge
? I know I do. Ever so fondly. But I had moved past those particular delights eons ago. My binges change target. There are long periods of time, days months years, when I don't snack-obsess. But I've felt it for weeks now. The time was nigh. The need for a new snack discovery worthy of obsession has been burning hot in my blood.
Sometimes the packaging describes the food product within by pumping it up with all sorts of colorful tasty adjectives, making such sincere claims about how delicious the contents are that there is no way in hell to resist purchasing it. At least a minor affinity for one or more ingredients has already primed the pump, so to speak. Otherwise why would one even bother reading the package? I can't be the only one susceptible. Aren't you?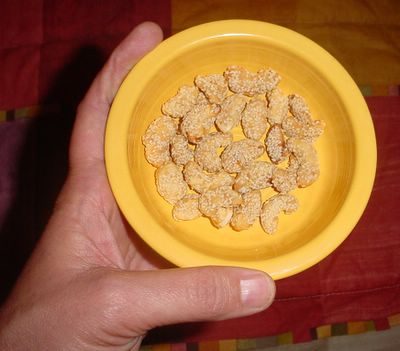 No? Well okay. It wasn't the package that caught my eye this time anyway. It was the seeds.
All hail the Sesame Seed, tasty little morsels of crunchy goodness! And the best part? The seeds are adhered to cashew nuts by a delicate honey glaze.
The first nibble sealed the deal. And so a binge is born. Yet it's controlled bingeing with nary a purge in sight. Behold. Heaven in a bowl, a reasonable portion doled out, each bite savored as no refills are allowed. Not until the next day. And only then if I'm good. Whatever that means.
They're even better with beer.
Try it. You can thank me later.
.