Okay so it wasn't actually a collision.
It was more like a collusion.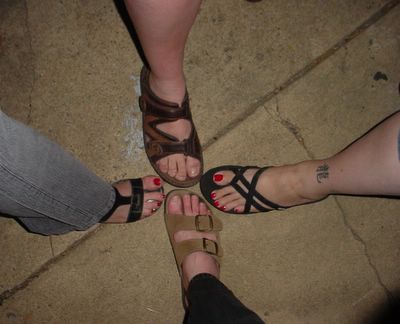 Wendy and I met
eb
last year when she breezed through town. This weekend she was back with her better half,
Maxine
.
Do you read eb? She erases her blog and starts something new almost as often as she changes her underwear. She says the current rendition isn't a blog at all: it's an Art Journal. We nod and smile and are just happy to have her unique presence on the internets.
But it's even better in person. Real people, real life. A stroll in Old Town on a cool spring evening, dinner, conversation and beer. With lesbians! Lesbians like us---happily coupled, parental, suburban, middle-aged. Lesbians we're fortunate to call friends. Although even if they were heterosexual, they'd still be people I'd enjoy. I'm flexible that way. But I'm glad they're gay.
So how about a guessing game? Which foot belongs to which woman? Or if that's too challenging, which two feet could one find playing footsie between the sheets?
Thanks for a fun evening, Elizabeth and Max.
Good times, good times indeed.
.